white led net lights for lawn
We're here to help: Easy ways to get the answers you need.
SPECIFICATIONS
Number of LED Bulbs: 288
Bulb Colour: White
Cable Colour: Clear
Total Length: 3.9m
Lighted Length: 2.4m
Length of drops: 1.2m
Lead Wire back to power point: 1.5m
Power Source: 24V/100-130V/220-240V
Saves up to 90% on compared to conventional Fairy Lights 25,000 Hour Average LED Bulb Life

LED net Lights | 2.4m wide + 1.2m height White LED net Lights on Clear Wire



288 Light LED net Lights in White on 2.4 metre length of clear, especially for lawn decorations outdoor use

There is an extra 1.5 metres of lead wire white to the 24V transformer back to power point. Suitable for indoor and outdoor use, but transformer and controller must always be undercover, this will extend the life of your White LED net lights. LED White net lights are super bright and because they are LED they stay cool making them safer and energy efficient to use. Sturdy and and energy efficient, LED net Lights will draw very little power saving you up to 90% on normal conventional fairy lights. Use net Lights hanging off your gutters for a winter wonderland. Hanging Led net Lights from hedges will give you great coverage and look terrific. LED net Lights look fantastic in business foyers and for parties and weddings. Use Led net Fairy Lights to decorate your house and garden all year round or to promote your business, they are easy to use and looks great!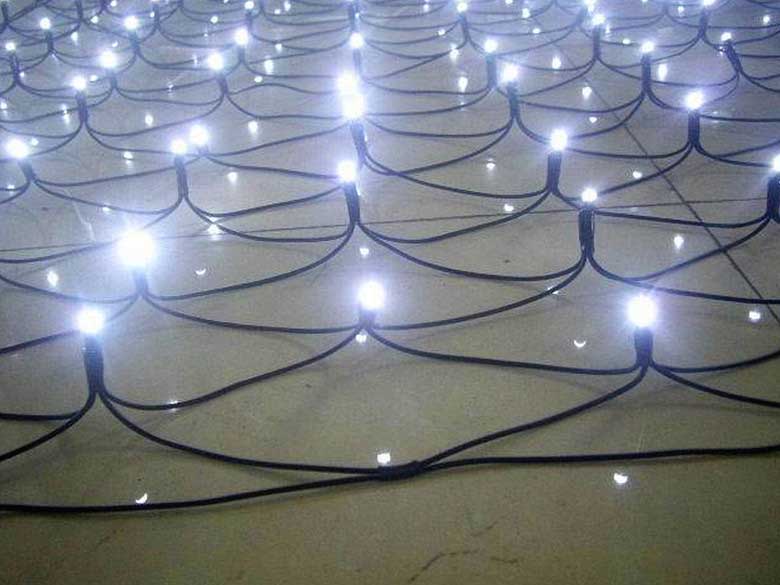 Our Main products
Holiday decorations: Christmas decoration light, led New Year decoration light, Halloween decoration, Easter day decoration, Memorial Day decoration, Celebration ornament, Wedding ornament, Birthday party decoration,etc.
Project decorations: Shopping mall decoration light, Garden decoration light, Apartment decoration light, Park decoration light, House decoration light, Hotel decoration light, etc.
Product Type:
Led tree lights (led small branch light, led palm tree light, led cherry tree light, led willow tree light, led maple tree light, led fruit tree light, Cypress tree light)Firework light, 2D motif light, 3D sculpture light, led net light, led string light, curtain light, icicle light, waterfall light, rope light, twinkle light, cartoon animal light.