2.4x1.2m warm led net lights
We're here to help: Easy ways to get the answers you need.
SPECIFICATIONS
Number of LED Bulbs: 180
Bulb Colour: Warm white
Cable Colour: Clear/black/darkgreen
Wire material: 1.9mm/2.3mmPVC
Lighted Length: 2.4m
height: 1.2m
power cable length: 1.5m
Power Source: 24V/100-130V/220-240V
Saves up to 90% on compared to conventional Fairy Lights 25,000 Hour Average LED Bulb Life

Rayer Lighting warm white Christmas Net lights are realized with a "Twin-bulb system". This system guarantees a higher yield compared with single LED models. These nets are ideal for gardens, trees and bushes, but also for the creation of stars canopies.
LED Christmas net Lights | 2.4m wide x 1.2m height Warm white LED net Lights on Clear Wire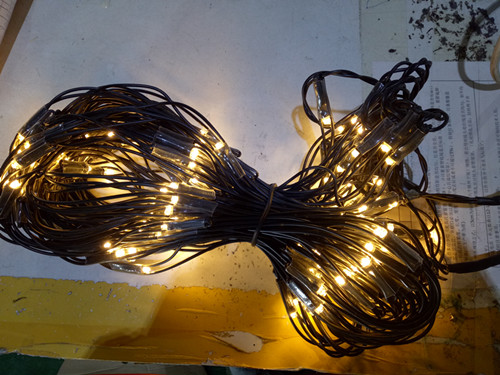 Standard 180 Light LED Christmas net Lights in Warm white on 2.4 metre length of clear wire

There is an extra 1.5 metres of lead wire warm white to the 24V transformer back to power point. Suitable for indoor and outdoor use, but transformer and controller must always be undercover, this will extend the life of your Warm white LED net lights. LED Warm white net lights are super bright and because they are LED they stay cool making them safer and energy efficient to use. Sturdy and and energy efficient, LED net Lights will draw very little power saving you up to 90% on normal conventional fairy lights. Use net Lights hanging off your gutters for a winter wonderland. Hanging Led net Lights from hedges will give you great coverage and look terrific. LED net Lights look fantastic in business foyers and for parties and weddings. Use Led Christmas net Fairy Lights to decorate your house and garden all year round or to promote your business, they are easy to use and looks great!