3D led decoration angler fish
We're here to help: Easy ways to get the answers you need.
SPECIFICATIONS
Model: RY-3MONKFISH
Size: 58x52x83cm
LED number: 192leds
lighting effects: steady lights
weight: 8kg
material: ABS+string lights+iron frame
Voltage: 24VDC/110VAC/220VAC

3D led decoration angler fish for ocean park festival decoration and garden light show decorations.

This is a three dimension design for the angler fish, and very popular for aqua park lights shows. suitable for Christmas commercial, party, park event decorations, etc. indoor and outdoor use.
In addition, it also has a 2D type same design as below: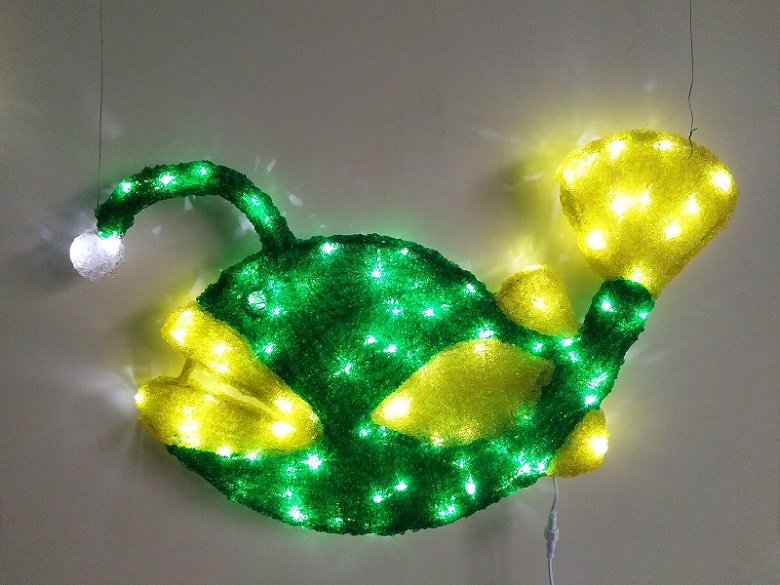 We provide customers with an infinite range of 2D and 3D elegant, giant and crossable LED decorations able to give life to urban spaces, shopping centers and events.
Our design office works with passion and deals everyday with the market and with the specific customers' requirements so as to creat personalized products and decorative solutions in line with the expectations.

The origin of Rayer Lighting products follows a specific path: every idea takes place with digital renders and graphic drafts, which are verified by the production department and finally transformed into veritable technical designs ready to get into full production process.


Main products
Holiday decorations: Christmas decoration light, led New Year decoration light, Halloween decoration, Easter day decoration, Memorial Day decoration, Celebration ornament, Wedding ornament, Birthday party decoration,etc.
Project decorations: Shopping mall decoration light, Garden decoration light, Apartment decoration light, Park decoration light, House decoration light, Hotel decoration light, etc.
Product Type:
Led tree lights (led small branch light, led palm tree light, led cherry tree light, led willow tree light, led maple tree light, led fruit tree light, Cypress tree light)Firework light, 2D motif light, 3D sculpture light, led net light, led string light, curtain light, icicle light, waterfall light, rope light, twinkle light, cartoon animal light.